SPACEFLIGHT PARTICIPANT OR ASTRONAUT?
Topic: - Astronaut/Tourist?
- Malaysians Outraged by NASA's Label of Their First Man in Space -
By NEW PAPER
ASK any patriotic Malaysian and he would say his countryman now orbiting the Earth is truly an astronaut or angkasawan, the Malay word for astronaut.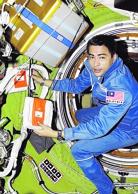 But ever since the US space agency NASA described Dr Sheikh Muszaphar Shukor as a spaceflight participant, the blogs have been buzzing.

The NASA comment riled many Malaysians.

Malaysia's Science, Techology and Innovations Minister, Datuk Seri Jamaludin Jarjis, told Bernama that Dr Muszaphar would be recognised as a cosmonaut - the Russian equivalent of the astronaut - next month.

COSMONAUT

He said that an official recognition ceremony for the angkasawan as a cosmonaut would be held in Moscow on 11Nov following his return from space on 21Oct.

'Some countries might question this, but to me, it is not important. What matters is that the candidate was selected and trained by Russia and the country recognises him as a true cosmonaut,' he told reporters earlier this month.

His comments came after NASA had described Dr Muszaphar as a 'space flight participant' on its website.

NASA described the Malaysian as a 'spaceflight participant... flying under contract with the Russian Federal Space Agency'.

The Malaysian minister told journalists: 'The Russians themselves had told our man that he is a cosmonaut, and that's the end of the story.'

He added that it was the Russians who had selected the candidate and will be sending the Malaysian angkasawan to space and therefore it is appropriate for them to give the recognition and not the US.

But the comments on the Internet did not die down.

Some Malaysians saw the trip as a waste of money.

The US$25 million ($37m) agreement for the Malaysian to fly to space was negotiated in 2003 along with a US$900 million deal for Malaysia to buy 18 Russian fighter jets.

Criticism of the cost of the trip led to officials avoiding any mention of it, other than to say it is part of a US$900 million defence deal.

One reader named Jong commented in Raja Petra's blogsite, Malaysia Today: 'So what if Russia's space agency has recognised him as a cosmonaut?'

'That's unnecessary spending just to soothe the ego of the government while price hike on petrol and basic food items since last year have greatly affected the ordinary people who find it difficult to make ends meet. This is most irresponsible on the part of the government!'

The Malaysian government did not see it that way.

In an interview with the Voice of American, Science, Technology and Innovations Minister Jamaluddin Jarjis, said he hoped the space mission would inspire a new generation of Malaysian scientists.

'Putting our man, our Malaysian man in space, is basically - we want to raise the bar for Malaysia in terms of acquiring knowledge for the future, especially the young ones, the five million kids in school,' he said.

It remains to be seen whether the space trip would inspire Malaysians to take up science but Dr Muszaphar has caught the imagination of the Malaysian public. The handsome bachelor has become a national heartthrob.

Even though NASA described him as a spaceflight participant, the 35-year-old orthopaedic surgeon is not an idle space passenger. He will perform experiments involving diseases and the effects of microgravity and space radiation on cells and genes.

On Monday, he had a nine-minute chat with 24 Malaysian schoolchildren via radio and showed them how a top spun in space kept spinning non-stop.

Last night, he spoke to Malaysian Prime Minister Abdullah Ahmad Badawi in a video conference.

Critics of the space trip seem to have quietened down in recent days.

As blogger Ahirudin Attan noted in his column, Rocky's Bru, after watching the rocket carrying DrMuszaphar take off: 'There've been a lot of verbal fights about the decision to send a Malaysian up there. But to quote this person sitting across the table enjoying his glass of wine: 'Call him an angkasawan, a cosmonaut, a space participant, or whatever you like... that's the first Malaysian in space there!'.
Source: The (Electric) New Paper Singapore
Posted by site editor at 12:01 AM JST