MUSZAPHAR IS THE FIRST CHOICE
Topic: - Selection Process
By MAZWIN NIK ANIS
PUTRAJAYA: Dr Sheikh Muszaphar Shukor looks increasingly likely to be the first Malaysian in space.
The 35-year-old Universiti Kebangsaan Malaysia Hospital (HUKM) medical officer has been named in the primary crew for the Russian Soyuz 15-S mission, which is scheduled for launch from the Baikonur Cosmodrome in Kazakhstan on Oct 10.
His two other crewmembers are Russian cosmonaut Yuri Malenchencko and American Peggy Whitson, the first female commander of the International Space Station (ISS).
The other Malaysian in training, 27-year-old Armed Forces dental surgeon Kapt Dr Faiz Khaleed has been named in the secondary crew together with American astronaut Michael Fincke and Russia's Sharizan Sharipov.
However, Dr Muszaphar is not absolutely certain to be the on the space flight. The decision on which of the two Malaysians will be in the final crew will be decided by the Russians at the last minute.
Prime Minister Datuk Seri Abdullah Ahmad Badawi, in announcing this, said the Government was proud that both the Angkasawan candidates passed the training with flying colours.
"The country has successfully produced two individuals who can participate in space missions at any time when they are needed, and the Government is proud that the Main Crew Commissioning Board has also acknowledged their success."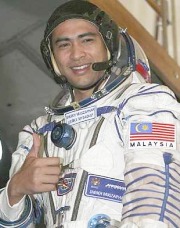 "On behalf of the Government and all Malaysians, I wish them both all the best. I pray that the mission will be a safe one and a success," he said at a press conference to announce the Malaysian astronaut yesterday.

Dr Sheikh Muszaphar and Kapt Dr Faiz will leave for Baikonur on Friday to undergo final preparations.

The plan to send a Malaysian to space was conceived in 2003, when Russia agreed to send a Malaysian to the ISS as part of the RM3.4bil purchase of 18 Russian-made Sukhoi 30-MKM jet fighters.
The Malaysian astronaut will be carrying out experiments on board the ISS related to the growth and characteristics of liver cancer and leukaemia cells, and microbes in space, and the crystallisation of various proteins.
Since he will also be in space during Hari Raya Aidilfitri, the Malaysian astronaut will also be taking along some local delicacies such as rendang to the ISS, where besides carrying out food tests, he will also be sharing Malaysians' favourite dishes with the rest of the crew.
Since Russian Yuri Gagarin became the first man in space in 1961, many have followed suit.
Malaysia joins a long list of countries to have sent their citizens to outer space.
Source: The Star Online
Posted by site editor at 12:01 AM JST